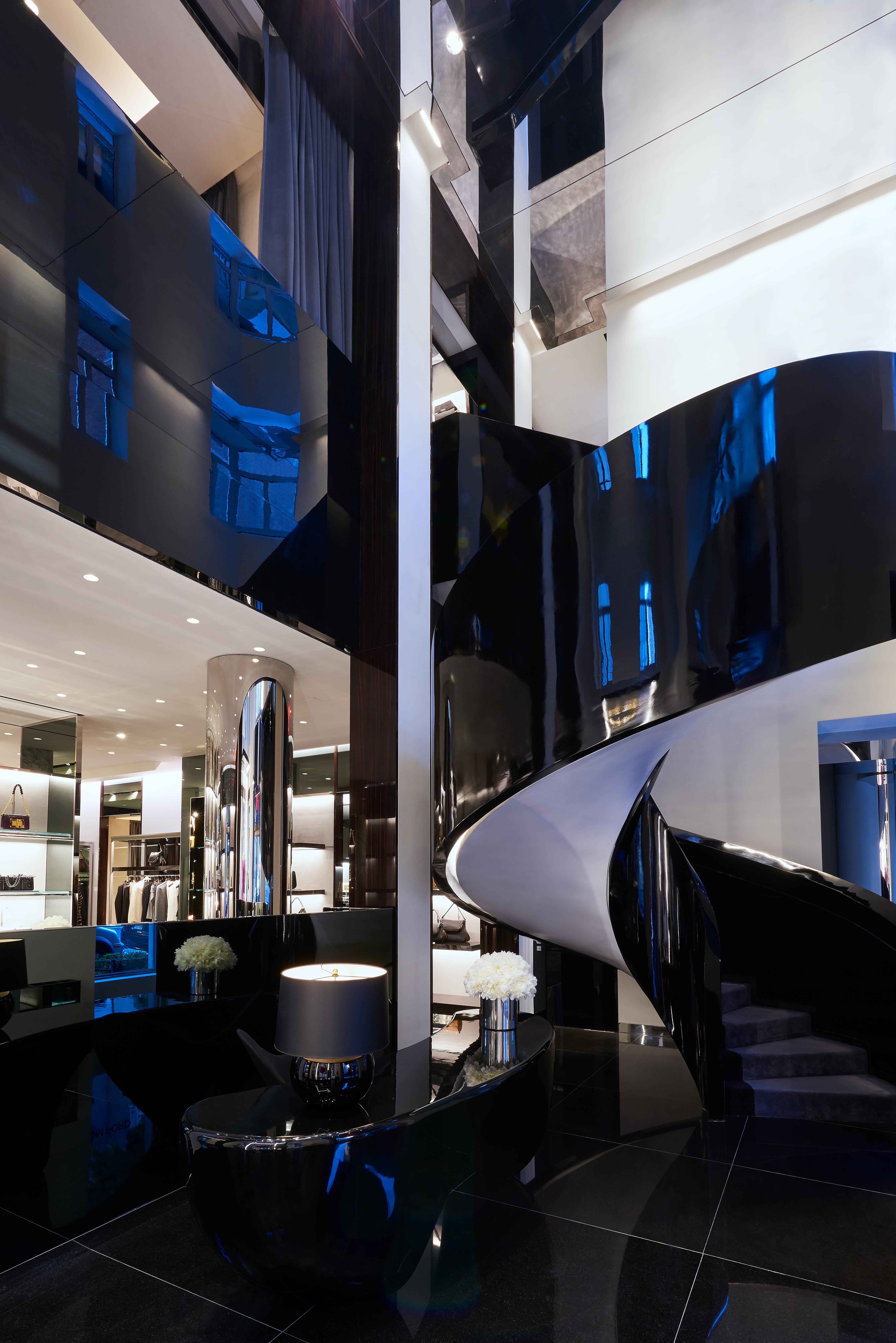 Bridget Foley's Diary: Tom Ford Moves on Madison
Tom Ford talks about his next show, Halston's socks, school moms' yoga pants and his shiny new store on Madison Avenue.
By Bridget Foley on June 29, 2017

"I have never been meek."
Never mind that those words could be Tom Ford's personal manifesto and, when the time comes (many years hence, knock on wood), his epitaph. On Monday morning, he stated the obvious by way of contextualizing the powerful design of his new New York store, at 672 Madison Avenue.
Ford spoke on the phone from London, the base from which he'd been weighing in daily — his staffers might say constantly — as workers readied the space for its soft opening today. The official opening will be marked with a cocktail party on Sept. 7, the day after Ford's spring 2018 show.
Our Monday morning, conversation followed a walk-through of the store, a field trip that more than supported the designer's antimeek declaration. It also displayed an interesting degree of activity — merchandisers filling shelves and racks despite the last-minute construction work under way; some ceiling coverings — mirrors, stainless steel, a portion of a high-tech, reflective fabric — remained uninstalled. On Wednesday, a minor mirror mishap caused WWD's shoot to be pushed back just a bit, 30 minutes or so.
Even almost finished, the space pulsed with urbane chic of a sort very different from that of Ford's first retail outpost, up the avenue a bit at 70th Street. That store (closed permanently after business hours on Sunday) was modeled after the designer's London Mayfair home and paid homage to gentlemanly British elegance. This one, all black, white, gray and silver, flaunts an audacious modernism informed by late-Seventies glamour, the results every bit as impressive but more gender-neutral than the original.
A grand staircase, its balustrade a thick spiral of black fiberglass, anchors the double-height entry. Beyond, a series of salons is proportioned for graceful intimacy: women's handbags immediately past the entrance; to the right, fine jewelry, to which watches will be added when that collection launches early in 2018; further back, ready-to-wear and shoes, the latter anchored by a white marble fireplace beneath a commissioned abstract art piece, a combination of clay and plated silver. Finally, a mirrored, marbled jewel box of a space houses beauty, fragrance and eyewear.
Upstairs, the VIP room with off-white sueded walls overlooks the entrance, its long curtains affording privacy without blocking the ample natural light. The second floor also features men's wear — luggage, sportswear, shoes, perfumery, shirting and suiting, the last featuring tony Macassar ebony wardrobes and a second fireplace. In time for today's opening, a workroom with a full-time staff of five tailors was set to be fully operational.
Throughout, various marbles play against granite flooring, chrome, mirrors and stainless steel, achieving multiple degrees of high-impact reflection.
Here, Ford reflects on his move down Madison, as well on other fashion matters.

WWD: Ten years after opening on Madison Avenue, why change locations?
Tom Ford: There is completely different traffic at [the new] location. You get not only the traffic of our customers who live uptown, but you also get a completely different group. Let's be real, we're across the street from Barneys and that means a lot. But that's not the only reason. The very first store was built in 2007. At that time I didn't have women's, and it was built as a men's store. We adapted it for a women's store, but it never really functioned properly for both men's and women's.
WWD: This store feels visually powerful yet more feminine than the first store. Maybe "more feminine" is the wrong way to say it. The other store looked more traditionally masculine.
T.F.: Because it was built as a men's store; [the original store] was very Macassar [ebony] heavy. It's beautiful. In a lot of ways it kind of broke my heart to leave it and to see all that demolished. But it was also heavy compared to where our store design is today. So it was three reasons: location, space and then a fresher design, more to the design of our Miami and Los Angeles stores.
WWD: What elements have you retained from the first store?
T.F.: There's a little bit of Macassar in this store. And certain things, building the rooms around fireplaces, which we have always done; certain pieces of furniture, certain fixtures, the gray metal cases for the clothing, certain things that are us and our signature and that you try to hang onto because they give you your identity as a brand.
WWD: Why the fireplaces?
T.F.: The very first store on Madison was really a copy of my house at the time, in Mayfair, in London. We copied my mirrors, my urns, my sofas. I literally went through and pulled out pieces of furniture and lamp fixtures and things I had designed myself and replicated it in that store. That's where that came from, the grouping around fireplaces.
WWD: The new aesthetic is very different from that of the first store, more modernist versus sumptuous classic. How did you get from one to the other?
T.F.: The Gucci stores were a copy of my Neutra house in Los Angeles — the Vladimir Kagan sofas, the lines. So I suppose when I set about designing the first Tom Ford store, I was very aware of what I had done at Gucci and then later at Saint Laurent, Bottega and all the other [Gucci Group/Kering] stores, and I wanted to go away from that. Now that the brand is established, perhaps I'm more comfortable in coming back to what my actual true, innate aesthetic is, which is toward a certain minimalism and modernism.
WWD: You worked with architect Bill Sofield again, right?
T.F.: I worked with Bill on all of those stores. My God, Bill and I have worked together on Gucci, Saint Laurent, Bottega, Sergio Rossi, Boucheron, we have worked together on literally hundreds of stores, which is amazing. We met, I think, in 1994 and we have been working together ever since.
WWD: What spoke to you about this space?
T.F.: First of all, location, that is the number one. And then the double-height entry so that it could feel somewhat grand as you walked in. When you then go into the other spaces, the ceilings are not ridiculously high, which works to create that residential feel. It's a residential building.
WWD: And how does this store differ from the aesthetic of Miami and Los Angeles?
T.F.: We're in New York, and instantly that sets up a different vocabulary. The lacquered stairs as you walk in, which isn't really lacquer but that beautiful black stair and the mirrored ceiling.
It's very glamorous. I tend to constantly be drawn back to that very glamorous, late Seventies period of architecture. If you look at Halston's offices at the Olympic Towers, he was way, way, way up. I believe he had red carpeting, but the walls were just folding mirrored screens. And I believe there was even a mirrored ceiling in some of those rooms. So it was all that reflection. We mirrored the ceiling. The reflection and slick surfaces are a nod to where we are, New York. I like that slick aspect of New York.
WWD: So, a Halston connection.
T.F.: He was also obsessed with orchids, which I am as well, and he had tables full of orchids and folding mirrored screens and chrome everywhere. It was very glamorous and very much of the period. In fact, the sofas with the round bolsters, which I have used over and over ad nauseam in my houses and in all the stores, they have become a kind of signature of my stores. They came originally from the gray sofas in Halston's town house on 63rd Street, which was done by Paul Rudolph. There is a famous picture of him sitting in a gray outfit with red socks on, in one of those gray chairs in his living room.
WWD: Not a vague connection — a direct Halston inspiration?
T.F.: Direct inspiration, for years, from Halston. I think Bill and I both share that inspiration. Well, definitely we share that period in New York. We had mutual friends in college. Our influences and cultural references are identical.
WWD: This store is mostly about the slick surface with new artwork you commissioned for the space. But it's all integrated architecturally — none of the major artwork of the first store.
T.F.: The original store had my own artwork in it. It had a Calder in it; it had an Arp in it; it had a Fontana when you walked in the door. It had a Lalanne crocodile table.
WWD: What will become of that Lalanne table? It was such a focal point.
T.F.: The Lalanne table is where it belongs — in my house. And so is the Arp and so is the Calder and so is the Fontana. They were kind of on loan to get the store open.
WWD: The staircase makes for a major, glamorous statement. I don't want to use the word imposing…
T.F.: Well it is imposing. I mean, I suppose I can't help myself with that. I have never been meek. I want you to walk in and go, "Oh my God, look at that!"
WWD: How is your approach to opening a store different today than 10 years ago, when social media and e-commerce were in a very, very different place.
T.F.: It has not changed for me. I think a store, especially a store in New York, is still an incredibly important statement for your brand. You can shop online, and we have a beautiful web site where we do a great business, but walking in a store and being greeted by people in the store and the service that you receive, the store is a completely different experience…and service, service, service is so much a part of what we do. Our men's business is almost 30 percent made to measure, made to order.
WWD: Really?
T.F.: Yes. People come in and they want to look through swatches, be measured, sit down, have a coffee, talk about which fabric do you like, or your wife or your husband or someone with you, and order a suit, yes.
WWD: How is the women's shopper's mentality different from the men's?
T.F.: They are totally different. Your male customers are loyal. They come in, they find a suit that they like, they have a shape that they like, they find a pant that they like, they come back, they come back, they come back, they come back, they come back, they come back. A woman — maybe you have her for a couple of seasons if she finds something she wants and she identifies with you. But if she is a woman who consumes fashion, she is looking [around] and she goes wherever what she wants at that moment is.
WWD: How do you build a loyal women's clientele given that reality?
T.F.: If you're lucky, a lot of women identify with what you're doing. A lot of women identify with what we do, which is great. But it's also sometimes challenging [creatively], when you have a loyal customer base, to break out of what you're known for. If certain things sell over and over and over, your stores want to just keep buying them and buying them…so it's tricky. That's something I'm going to address in my September show.
WWD: Speaking of which, your September show, which is not see-now-buy-now-wear-now…
T.F.: No it is not. It is see now, buy in five months.
WWD: Where and when?
T.F.: At the Park Avenue Armory, Wednesday at 7 p.m.
WWD: You mean the first Wednesday, after Labor Day, right?
T.F.: I think it's good because people have come back. They've had two days to settle in from the long weekend, they're still tan, they're still happy, they're not burned out yet, they're not tired of everything. It's not nine at night, it's seven at night, and then you can go out to dinner, whatever. I thought it was a good slot.
WWD: You've always shown early in the season.
T.F.: I like to start or finish.
WWD: Back to the balancing demand for the known with newness…
T.F.: [Retailers] want the same thing because it sells. Especially in today's world, everyone is terrified, and so they want a sure thing. I'm lucky in this way, I have a few key items that the moment they get into the store they sell. So the [danger] is that if you keep doing that [too deeply], you don't evolve. I'm going to ignore [the expectation of repetition] and present what I want to present in September and see what happens.
WWD: What always sells for you?
T.F.: Oh my God, a sequined dress with a zipper, a sequined dress with a zipper, a sequined dress with a zipper. I mean, there are lots of other things, but that's the one. I mean, every variation and mutation of that.
WWD: Where do you see the women's business developing over all?
T.F.: I find what's happening in women's wear really bizarre. Women don't wear day clothes anymore. I don't understand the concept of day clothes. I had to really think about this. I had to think, well, why don't I understand the concept of day clothes? And the reason is women don't wear day clothes anymore.
[My son] Jack's school in L.A. — I watch what everyone wears in the morning when drop-off happens.
WWD: Yoga pants.
T.F.: They're all wearing casual clothes, yoga pants, T-shirts, jeans. You see those same women at lunch, and all they've done is they've slipped on a pair of great shoes and they've popped on a jacket over their T-shirt. So they're wearing jeans, a T-shirt, a jacket and shoes, that's it. But at night, they get completely dressed. It seems to be the same in New York from what I can tell; I don't spend enough time there. But in L.A., no one dresses.
So Jack's school here — we're back in London for the summer, and school goes through the end of July — all of the women at drop-off are wearing the exact same thing [as in L.A.]: yoga pants, a T-shirt ans trainers or jeans, a T-shirt and trainers. I see those same women at lunch, what have they done? Fancy shoes, popped on a jacket, still the jeans, still the T-shirt. I see those women out at night, totally dressed. Women aren't wearing day clothes in the way that they used to.
WWD: From a fashion-business perspective, how do you deal with that?
T.F.: Drop day. You just drop it. You make great jackets. You make things that you can break apart. You show it all together. You make potent pieces, you make a potent jacket, you make potent shoes, you make potent items that — with your jeans, your T-shirt and your trainers, or a great pair of shoes with your jeans and your T-shirt — say, "I'm cool, I'm great, I consume fashion." You make great items. And then you make evening.
WWD: Evening sells?
T.F.: Evening dresses, $25,000 is no problem. Our buyers often say we need more; we sell them like crazy. Like crazy. I mean, you don't have to sell those like crazy. You sell two and you've had an amazing day in a store.
WWD: I would think.
T.F.: We can easily sell four of those on a key weekend in awards season in Los Angeles. We sold two last year that were $50,000. Now, there are very few [of those] customers, but we know who they are and they come back to us.
WWD: Back to day, I think our increasingly casual lifestyle is a major issue for fashion today, one the traditional luxury market is struggling to deal with.
T.F.: Women really do dress high-low….As I said, it's about producing those very potent items. That amazing jacket, the amazing pair of shoes, those things that you're going have in your closet 20 years later, you'll pull it out and put it on again over a T-shirt and jeans and it's going to look amazing. And then evening, beautifully constructed eveningwear or leather. Beautifully constructed items like that, no one can touch those.
WWD: You've really thought about this.
T.F.: I've thought about it. I have to say it upsets me because, again, I'm of a certain vintage that I remember how people took such care to dress when they got on an airplane. People today don't do that.
Spending time in Los Angeles this year has made a huge difference in how I see clothing, for women in particular. London is a bit of a bubble where both men and women still do dress in a throwback to another time, at least many women and men who have a lot of money. Obviously, there's great young style here and people who don't have a lot of money, who are ultra stylish and fabulous, but London is a highly bourgeois city where women and men [who have money] still dress in a way that [developed] many years ago.
That is very attractive to me. But it is artificial. You could live here and you could start to think, "This is how you dress when you go to lunch, and this is how you dress [for other situations]." And in London, at a certain level, you do. But in the rest of the world, that's gone; people don't do that anymore. Living in Los Angeles, I feel excited about this season because I feel like someone shook me a bit, and I'm a bit more awake.
WWD: Interesting.
T.F.: So it'll be interesting to see if I can put that on the runway.
WWD: Back to retail. Are there any stores upcoming?
T.F.: Not at the moment. We have…I think, this is 128 stores. I own 28 of them, and some of the others are franchised and some are shops-in-shop in department stores. But I think we're pretty much covered in most major markets where we should be. So at the moment, no.
WWD: You're covered in major markets, and content with that scope. Another issue for the industry now is the constant drive for growth, growth, growth. At some point, the concept is antithetical to that of luxury.
T.F.: It's absolutely true, without then having to broaden your distribution, lower your price point and compromise potentially the long-term power of your brand. That's why I am so happy that I am a private company and in control, because if I were a public company, I would be pushed to be doing things that I don't necessarily believe in.
WWD: "Brand." Back when, fashion companies were "houses." In a world in which everything and everyone is a brand, does the word mean anything?
T.F.: I hate that word. I have always hated that word. I hated that word at Gucci, I hate that word at Tom Ford. I hate that word. Brand and branding, I hate that more. Although the word I hate the most right now is disruption.
I just want to — every time I read that word I just cringe. [Laughs] Oh what she's doing is so disruptive. Oh, we want to disrupt the blah, blah, blah market. I hate it.
WWD: I'm with you. What I like is, "what I'm doing is so disruptive." I mean, let others be the judge of that. Discretion — not a modern concept.
T.F.: The people I follow on Instagram, the daily photo of themselves in front of something. Don't you remember the time when you would be embarrassed to even have a picture of yourself out in your house? You just wouldn't do that. And now people are so comfortable, even quite sophisticated people, taking pictures of themselves constantly. I find it so bizarre.
WWD: Let's not end with "ugh." Is there anything else you'd like to add about the store?
T.F.: Does it look expensive?
WWD: So expensive.
T.F.: Oh good, I love that.